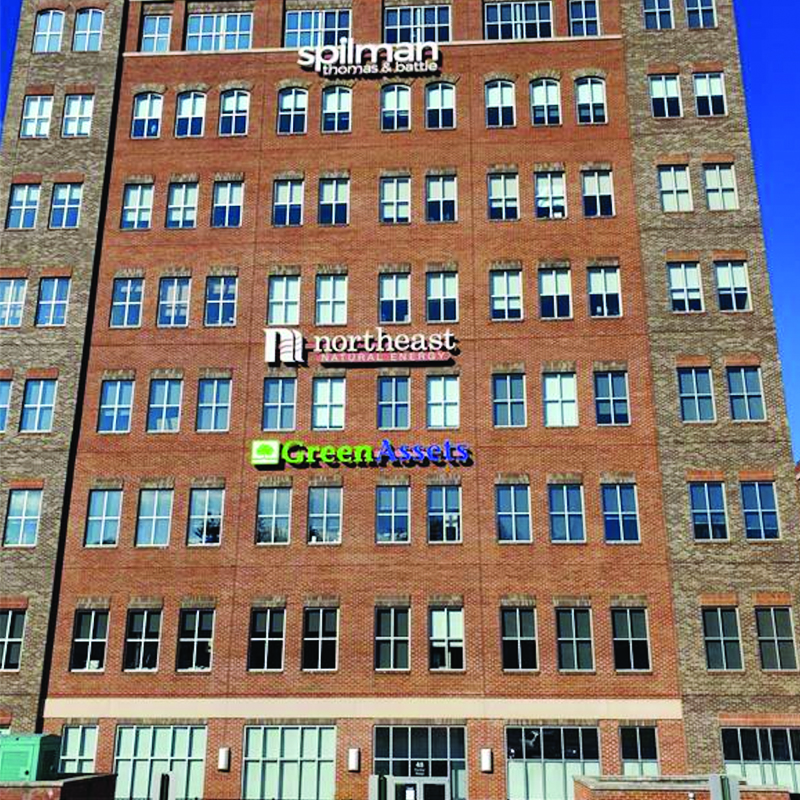 In September 2021, Green Assets, Inc., a leading forest carbon offset development firm, opened a new office location in Morgantown, West Virginia.  Located in Morgantown's historic Wharf District on the 7th floor of the Marina Tower, the new office is just a few minutes' walk or drive to West Virginia University's downtown campus.  Situated along the Monongahela River and rail-trail, the office boasts beautiful views of "Touchdown City," and the area is well known for great dining and historic architecture. Marina Tower's eight floors also provide a work home for several other regionally prominent companies, WVU offices, and government organizations; the building boasts the River Birch Café on its first floor and the River View & Brew rooftop bar.
Thanks to Bailey Evans for leading the charge on procuring and opening this exciting new office space, which will be under the leadership of Green Assets' Technical Director Jonathan Pomp. The Morgantown office will host Green Assets' Technical Division, including Mr. Robert Eckenrode, Ms. Kelsey Razvillas, and others over time.  Green Assets is actively growing and expanding their share of the forest carbon industry, and the Morgantown location will allow the company to continue to build and leverage strong relationships with WVU's Division of Forestry & Natural Resources (DFNR) with a primary goal (amongst several others) of providing the division's top, brightest, and most active/involved undergraduates and graduates with preferred opportunities to join the Green Assets team.
The WVU DFNR is a prominent forestry school in the United States, providing exceptional graduates into the forestry marketplace. Among many other esteemed companies, the school's graduates have gone on to work at some of the country's leading forest management companies, as well as carbon offset development companies, registries, and verifiers. All of the employees and interns at Green Assets' Morgantown office are either Alumni or current students of the Forest Resources Management program.
Green Assets provides turnkey carbon offset project development involving everything from conservation easement development to forest carbon inventory design & implementation to program quantification & reporting to credit sales. In addition to the Morgantown location, the company has offices in Wilmington, North Carolina (HQ); and Boca Raton, Florida.  Green Assets has been developing the highest quality forest carbon offset projects since 2010 and boasts a 100% success rate on contracted forest carbon offset projects.